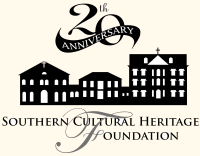 The Southern Cultural Heritage Foundation is a nonprofit organization dedicated to preserving the diverse cultural heritage of Vicksburg, Mississippi, the Mississippi Delta, and the American South. The Foundation works to achieve its goals by creating and hosting cultural activities at the Southern Cultural Heritage Complex.
Our upcoming activities suit many interests, and our past activities are a testimony of the rich cultural heritage of Vicksburg, Mississippi.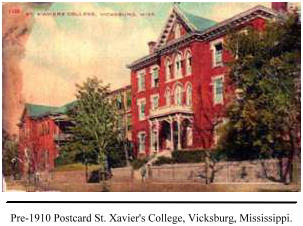 Our 20th Anniversary! In 1994, the Southern Cultural Heritage Foundation was formed to preserve these historic buildings and to direct their transformation into a cultural center. Twenty years of carrying on our mission: emphasizing the humanities and the arts, providing unique and quality programming for free or at low cost to the Vicksburg community.
In the fall of 2014, we celebrated with some awesome activities!
April 2016 newsletter (1.4 MB Adobe Reader file)

Facebook Events Page (must sign into Facebook to view)

More! Activities Log of all current and past years' activities.

The 8th Annual Chocolate Affair, Thursday, May 5th from 7-9 p.m. in the historic SCH Auditorium. This elegant evening will include scrumptious chocolate desserts, drinks, and awesome entertainment by Hugh Mitchell. Hugh Mitchell is sponsored by the generosity of Lady Luck Casino. The scrumptious chocolate desserts are sponsored by Ameristar Casino & Hotel, Bovina Café, Cedar Grove Mansion Restaurant, KJ's River Town Grille, Main Street Market, Roca/10 South, Rocky Mountain Chocolate Factory, The Mad Baker, Walnut Hills, and Wine House. Light hors d'oeuvres will also be available. The beverages are sponsored by The Liquor Store. The auditorium will be transformed into a room of elegance and charm by the local talents of Tina's Flowers & Gifts. Cedar Grove Restaurant, Roca/10 South, Martin's at Midtown, and Wine House will grant 10% off your dinner purchase if you present your Chocolate Affair ticket the night of the event. Space is limited and an advanced ticket purchase is required. For more information or to purchase tickets, please call the SCHF office at 601-631-2997 or email info@southernculture.org. Tickets are $25 per person for SCHF members and $30 for nonmembers. Tickets are available at the SCHF Business Office, Frederick's Boutique, Paper Plus, charge by phone at 601.631.2997, and online at chocolate2016schf.eventbrite.com. A group purchase of eight may reserve a table by calling 601.631.2997. Press release. Facebook event page.

Korean Barbeque with Chef Tom Ramsey Wednesday, May 18, 2016 from 5:30-7:30 p.m. in the SCH Academy Building. Join Chef Tom Ramsey as he instructs and entertains everyone on how to make Korean Barbeque. Ramsey will be serving Korean barbeque which is a spicy and sweet, pork barbeque topped with pickled vegetables, served on a lotus bun. Registration is $30/SCHF members and $35/non-members and includes all supplies. Space is limited and reservations are required. For more information, please contact the SCHF office at 601.631.2997 or email info@southernculture.org. Press release.

Southern Book Club Wednesday, May 18 at 7:00 p.m. The Southern Book Club meets the third Wednesday of each month. In May the monthly book is A Tale for the Time Being by Ruth Ozeki. There is no fee to attend and it is open to the public. For more information or meeting location, please call 601.631.2997 or email info@southernculture.org.

Ballroom Dance Lessons, Sunday, May 29th from 5-6 p.m. in the academy building, presented by James Frechette, owner of Applause Dance Factory. This month's featured dance is the Cha Cha. Individuals and couples are welcome. $10 per person. For more information, please call 601.631.2997 or email info@southernculture.org.

The Vicksburg Dance Studio has moved to the SCHC!!! For more information or to view a schedule, email vicksburgdancestudio@gmail.com or check out the Vicksburg Dance Studio Facebook page!

The River Kids Free After School Art Program, began on January 28, 2016. Open to any child in 1st through 6th grade, the program accepted 60 students for the class on Thursdays from 3:45 to 5:00 pm. It exposes creativity through drawing, painting, crafts, collage, ceramics, sculpture and many more exciting techniques. Experienced and accredited educators, Karen Biedenharn and Regina Renot Mattei, plan and teach each class. The program is free, but requires a full semester commitment from the parents. Press release.

SCHF Receives Mississippi Arts Commission Grant. The Southern Cultural Heritage Foundation has been awarded a $20,000 grant from the Mississippi Arts Commission (MAC). This grant is a portion of the $1.61 million in grants the Commission will award in 2015-2016 and will be used to continue the mission of the SCHF and bring exceptional events and quality programming to the community through artistic excellence. The grants are made possible by continued funding from the Mississippi State Legislature and the National Endowment for the Arts. These funds are vital in supporting the River Kids free after school art program, the huge variety of concerts, workshops, lectures, exhibits and the many other events and programs that are instrumental in growing the awareness of the arts to the Vicksburg community and surrounding areas. Press release.

Vicksburg Slam, Vicksburg's FIRST & ONLY Circuit Race Program
Dedicated to the success and enjoyment of the three signature Vicksburg Races: Over the River Run, October 8, 2016; Chill in the Hills, January 16, 2016; Run Thru History, March 5, 2016. Be a member of the Vicksburg Slam and qualify for cash prizes after participation in all THREE races! Vicksburg Slam is made possible by partnerships of Grace Christian Counseling Center, Southern Cultural Heritage Foundation and the YMCA. For more info, go to the Vicksburg Slam web page, the Vicksburg Slam Facebook page or e-mail info@vicksbugslam.com.

SCH Auditorium Exterior Project & Stabilization project: $4,775 STILL NEEDED!
This project is made possible by a grant from the Mississippi Department of Archives & History of $150,000 with required matching funds of $38,000.
We have raised $33,225 toward the $38,000 needed for the matching funds. Because we have yet to raise the remaining funds, we are forced to use our general fund.
We are STILL accepting contributions toward this project. REMEMBER: contributions of $50/or more will be listed on a plaque that will be permanently located in the foyer of the Historic Auditorium
Check out photos of the progress...
Checks need to made out to the SCHF (write MDAH grant in the memo of your check) and send to 1302 Adams Street, Vicksburg, MS 39180. Your donation is tax deductible.

The SCHF needs your help!!!
As with old buildings/structures, there is always something that needs repairing. That being said, the SCHF is in desperate need of your help!!! Because of the age of the water pipes underground of the cultural center, there have been several leaks discovered. The repair cost is estimated at $13,000. This was a very much unexpected problem.
If you would like to assist financially with this issue, checks need to made payable to the SCHF (write "Water Leak" in the memo of your check) and send to 1302 Adams Street, Vicksburg, MS 39180. Your donation is fully tax deductible.
We so appreciate your support!!!!!!

WLBT article, Going back in time with the Sisters of Mercy, February 20, 2009.

Guitar & Ukulele Lessons. Richard McComas, SCHF guitar instructor, has some openings for guitar lessons. If you are interested or would like more information, please call 601-529-6505 or email mccomasmusic@hotmail.com.

Violin Lessons. The SCHF is now offering violin lessons for all ages. Mrs. Ruthanne Schnell has taught for over 25 years. She has trained and studied under many master instructors. She is also able to teach the viola and cello. If you are interested or would like more information, please call 601-383-0796.

A memorial fund in honor of Mother Clementine Phelan and the Sisters of Mercy has been established by Mrs. Edna Henry Hosemann, Mrs. Elizabeth Henry Nelson and Mr. George Nelson, and Pat and Lance Dichter in honor of their aunt. Press release.

Looking for that unique gift for that special someone? Consider the special Cultural Center Crosses created by Misty Clendenin. All proceeds go to support the buildings and all programs at the Southern Cultural Heritage Center. The crosses are only $10 each, plus tax.

The SCHF is an ideal place to hold weddings, receptions, performances, reunions, lectures, and business meetings. Space available for rent include the classrooms in the 1930s Academy Building and the 1880s Auditorium featuring a stage, 24-foot ceilings, and hardwood floors.

Check out the musical montage of past programs and events held here at the Center, The Southern Cultural Experience at the bottom of this page.
Important Community links...
Vicksburg/Warren Chamber of Commerce
Vicksburg Convention & Visitors Bureau
Vicksburg Main Street
Vicksburg Theatre Guild and Gold in the Hills
---