---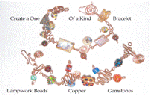 Saturday, October 4th-10am-12pm. Students will design and create a one-of-a-kind bracelet using copper, gemstones, and lampwork beads. Registration is $45/members and $50/non-members. All supplies are included. Reservations are required. For more information, please contact the SCHF office at 631-2997 or email info@southernculture.org.
Laura Tarbutton has been involved in arts and crafts all her life, but creating jewelry is her first love. Laura teaches Precious Metal Clay and beading classes through Millsaps College Community Enrichment Series and local craft stores. She also teaches at national bead shows and presents classes and workshops with Gem & Mineral Society chapters. Her studio is in Brandon, Mississippi. Check out her jewelry designs at www.trinityartdesignstudio.com.
---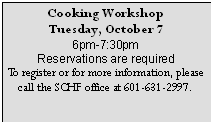 The Southern Cultural Heritage Foundation presents "Super Foods, Super Families," a cooking workshop and tasting for the entire family. Kristin Gluck will conduct this educational and fun demonstration incorporating a variety of super foods. The class will be held Tuesday, October 7th at 6:00 p.m.
Registration for adults is $25/SCHF members and $30/Non-members. Bring your child (ages 8-18) to participate for only $10.
Having trouble getting your family to the table? Short on ideas for fast nutritious meals that everyone will actually eat? This workshop will provide recipes that are not only quick and nutritious but they incorporate many of the 14 super foods. These ideas are so easy we invite the kids along to prepare, taste and explore the super foods.
Super foods help you lower your cholesterol, reduce your risk of heart disease and cancer, and, for an added bonus, put you in a better mood, proven to increase health, delay aging, and increase energy levels. A healthy diet incorporating a variety of the super foods will help you maintain your weight, fight disease, and live longer.
Kristin Gluck enjoys creating foods with interesting flavor combinations using fresh and healthy ingredients. Gluck will be offering seasonal cooking workshops at the Southern Cultural Heritage Center.
Reservations are required. To register or for more information, please call the SCHF office at 601-631-2997.
---
Ballroom Dance
presented by James Frechette
The SCHF offers monthly ballroom dance classes. James Frechette, owner of Applause Dance Factory in Ridgeland, teaches classes in ballroom, Latin, swing and many other styles of dance. This month the dance will be the West Coast Swing.
Class will meet Sundays, October 12 and 26 from 5 - 7 p.m. in the academy building.
Both individuals and couples are welcomed. The fee is $20 per person for each two hour session. For more information, please call the SCHF office. at 601-631-2997.
---
The Southern Book Club meets the third Wednesday of each month.
There is no fee to attend and it is open to the public. The group focuses on Southern authors and subjects, but is open to any good read. Book and author suggestions are welcomed.
For October, The Southern Book Club will discuss Three Cups of Tea: One Man's Mission to Promote Peace....one School At a Time by Greg Mortenson and David Oliver Relin at 7:00 p.m. on Wednesday, October 15, 2008.
Please call the SCHF office for meeting location or for more information.
---

To exhibit and perform in the Vicksburg Celebration and Jamboree and Classics in the Courtyard beginning October 16th.
Please call 601-631-2997 for more information.