---

The SCHF presents Holiday Clay Time, an introductory class to polymer clay. The Central Mississippi Polymer Clay Guild will conduct this fun and educational workshop. The class will be held Saturday, November 1st, 10am-12pm. Registration is $45/SCHF members and $50/Non-members. All supplies are included.
The Central Mississippi Polymer Clay Guild wants to share their love of polymer clay with you. This introductory class is a great opportunity to try your hand at creating two unique Christmas projects from this versatile art medium. The projects will be a snowflake pin and a Santa ornament or a pin. Even if you've never taken the wrapper off a block of polymer clay, this class is for you. Members of the Central Mississippi Polymer Clay Guild (www.cmspcg.com) will be on hand to help you every step of the way.
---
Decorate your front door for the holidays with a designer wreath. Hands-on instruction will be provided and all participants will learn to create a wreath of their own to take home.
Registration is $55/SCHF members and $60/non-members. All materials needed for this workshop will be provided, however, participants are encouraged to bring their own glue gun.
The first 8 participants to sign up for the class will receive a great canvas tote bag.
---
Classics in the Courtyard
Fabulous Music, Lunch and Fun at Noon at the SCH Center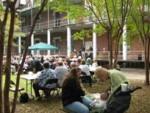 The Southern Cultural Heritage Foundation proudly introduces "Classics in the Courtyard". This new event to the Center will offer a variety of entertainment through different genres of classic music. Local entertainers and local restaurants will provide the music and lunch on Fridays from 12:00pm-1:00pm beginning October 17th and concluding November 14th. Musical entertainment will be provided for free and lunch can be purchased for $7 per person. Reservations are required for lunch and must be made by 5pm on the Thursday before the event.
These diverse musical styles will be a special treat for the Vicksburg Community and we hope many will embrace and enjoy the local music and local flavor Vicksburg has to offer. There is no better beginning to the fall season than "Classics in the Courtyard". The schedule of entertainment and lunch providers are listed below:
Friday, November 7th - Classic Country and Pop Music Favorites
Performed by: Jim Robinson and Maria Adona
Lunch provided by: Unique Impressions
Friday, November 14th – Classics Pop and Originals
Performed by: Lee H. Abraham and the Boone Brothers
Lunch provided by: Walnut Hills Restaurant
For more information or to make reservations for lunch, please call the SCHF office at 601-631-2997 or email info@southernculture.org.
---
Ballroom Dance
presented by James Frechette
The SCHF offers monthly ballroom dance classes. James Frechette, owner of Applause Dance Factory in Ridgeland, teaches classes in ballroom, Latin, swing and many other styles of dance. This month the dance will be the West Coast Swing.
Class will meet Sundays, November 9 and 23 from 5 - 7 p.m. in the academy building.
Both individuals and couples are welcomed. The fee is $20 per person for each two hour session. For more information, please call the SCHF office. at 601-631-2997.