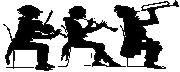 St. Joseph's Orchestra
Sunday, March 28
2:00 p.m.
On Sunday, March 28 at 2:00 the St. Joseph's Community Orchestra will have their Spring Concert in the SCHF auditorium on the corner of Cherry and Crawford Streets. Tickets for the event are $10.00 with proceeds benefiting the Orchestra and the SCHF.
The St. Joseph Orchestra is a full performing orchestra, drawing on members from surrounding Louisiana towns as well as Natchez and Vicksburg. The orchestra currently boasts a roster of 60 people, 27 of whom are from Vicksburg. The concert on Sunday will include: a Teleman Concerto for Viola and Orchestra, Tchaikovsky Andante Cantabile, Schubert Unfinished Symphony, the Mozart Toy Symphony, and Vivaldi for 4 Violins.
Other March 2004 Events

St. Joseph's Orchestra
Learn more about our daily, weekly, monthly, and annual activities
For more information about upcoming events, membership, rentals or to register for workshops, please call or stop by the SCHF office.
1302 Adams Street
Vicksburg, MS 39180
(601) 631-2997