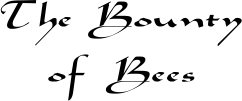 presented by Tom Patin
Tuesday April 27 at 7:00 p.m.
Tom will speak on the social life of bees, honey making, pollination magic for home garden production, as well as beginning beekeeping. He will also offer recipes using honey. The lecture will take place in the SCHF academy building at 7:00 pm and is free and open to the public. For more information contact the SCHF office at 631-2997.
Other April 2004 Events

The Bounty of Bees
Learn more about our daily, weekly, monthly, and annual activities
For more information about upcoming events, membership, rentals or to register for workshops, please call or stop by the SCHF office.
1302 Adams Street
Vicksburg, MS 39180
(601) 631-2997